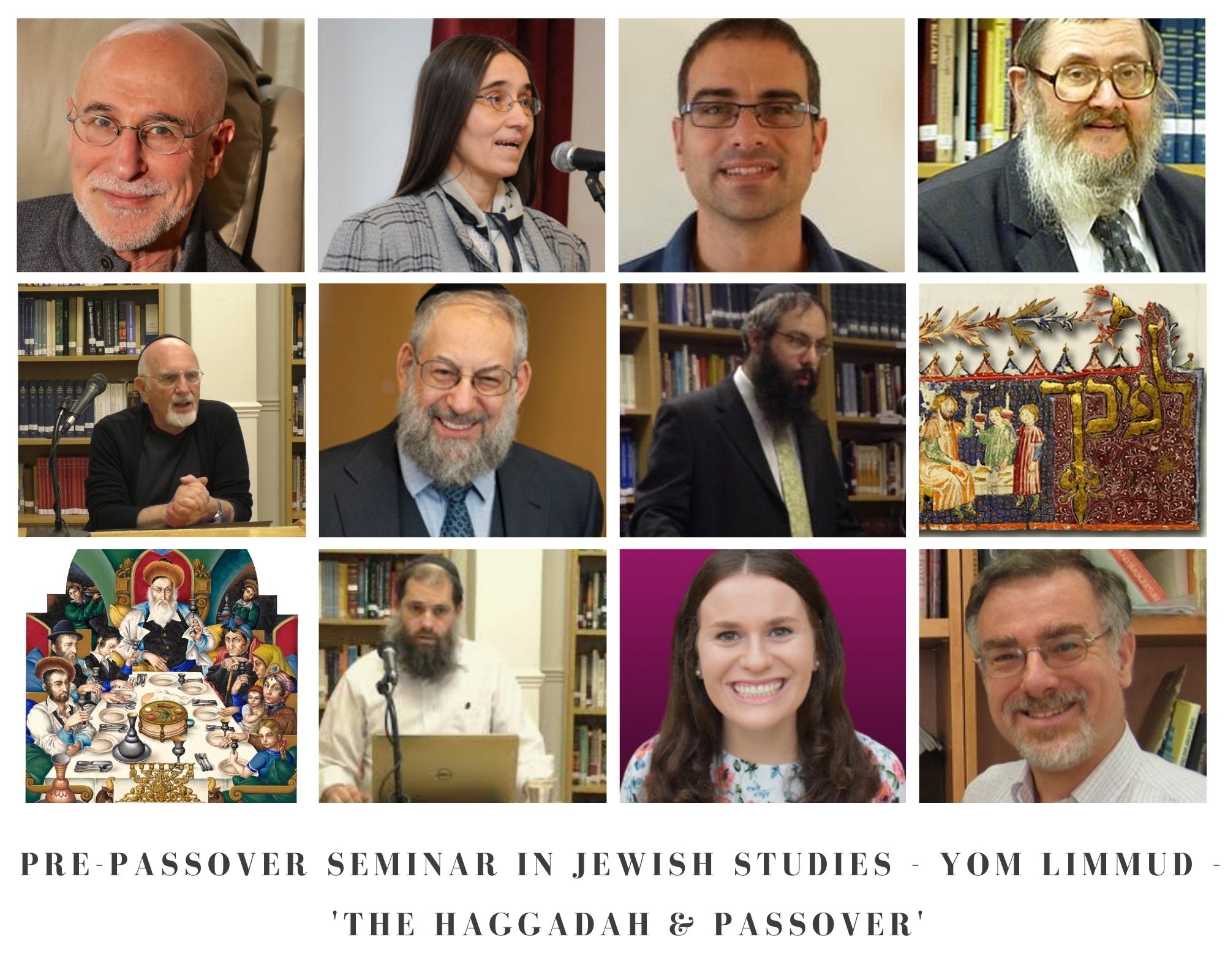 Oxford University Chabad Society is delighted to invite you to
PRE-PASSOVER YOM LIMMUD SEMINAR IN JEWISH STUDIES
Exploring the holiday of Passover through the text of the Haggadah, illuminated manuscripts, commentary, philosophy and mysticism
Sunday, 21 March, 2-5pm 
2pm Pammy Brenner
Pammy Brenner is a postgraduate student at the University of Oxford. She received her BA in Yiddish Studies from Barnard College and Managing Editor of Women on the Yiddish Stage, forthcoming from Syracuse University Press.
2.15pm Dr. Kinga Dévényi
'David Kaufmann and his Hebraica collection: The 14th c. Kaufmann Haggadah'
Dr. Devenyi is curator and fellow at the Corvinus University of Budapest, Institute for International Studies. Kinga Dévényi (PhD in Semitic Philology, Eötvös Loránd University, Budapest) is an associate professor at the Corvinus University of Budapest, Department of International Relations. She is also the curator of Arabic and Hebrew manuscripts and the Kaufmann and Goldziher collections in the Library of the Hungarian Academy of Sciences. Her latest publication is an edited volume entitled Civilisations from East to West (CUB, 2020).
After a brief presentation of the life and scholarly activities of David Kaufmann, the presentation will focus on his collection, and in particular on some manuscripts which are generally considered masterpieces of medieval art. A special emphasis will be placed on the Kaufmann Haggadah produced in 14th century Catalonia. 
2.30pm Rabbi Eli Brackman, Oxford University Chabad Society
'Rashi on the Haggadah in the supercommentary of Rabbi Menachem M. Schneerson'
2.45pm Irvin Ungar
'Arthur Szyk and the Art of the Haggadah'
Irvin Ungar, a former pulpit rabbi and antiquarian bookseller, has devoted the past quarter-century to scholarship on Arthur Szyk. Ungar is the author of Arthur Szyk: Soldier in Art (winner of the 2017 National Jewish Book Award), co-producer of the documentary film, "Soldier in Art: Arthur Szyk," and the creator and publisher of the luxury limited edition of The Szyk Haggadah. He has also served as the curator of The Arthur Szyk Society in Burlingame, California.
Arthur Szyk scholar Irvin Ungar will share insights from The Szyk Haggadah, exploring how the story of Passover and Szyk's visual commentary resonated with 1930s European Jewry. The brilliant political imagery of Szyk's Haggadah highlights the injustices and horrors of the WWII period along with inspirational messages for humanity's future interdependence.
3pm Brian Deutsch

'The role of women in Pesach'
Brian Deutsch is an Oxford scholar with expertise in Hebrew manuscripts. He assisted with the cataloguing of the Hebrew collection at Christ Church, Oxford.
3.15pm Dr. Naftali Loewenthal
'Leaving Egypt Every Day: A Classic Chabad Teaching'
Naftali Loewenthal lectures in Jewish Spirituality at University College London's Department of Hebrew & Jewish Studies. He is author of Communicating the Infinite: the Emergence of the Habad School (Chicago, 1990) and his most recent book is Hasidism beyond Modernity, Studies in Habad Thought and History (Littmann Library).
3.30pm Dr. Paul Mandel
'Why are these questions different from all other questions? The seder night according to early Mishnah manuscripts'
Paul (Pinchas) Mandel is senior lecturer at the Schechter Institute of Jewish Studies and Hebrew University Rothberg School in Jerusalem, where he teaches Midrash and Aggadah, Talmud, Hermeneutics and Jewish literature of the Second Temple period. Having completed a BSc and MSc in physics in the US, he received an MA and PhD from Hebrew University, in rabbinic midrashic literature and its poetic development. He is author of 'The Origins of Midrash: From Teaching to Text' (Leiden: Brill, 2017).
3.45pm Dr Hallel Baitner
'The Haggadah: Between the Exodus and the Paschal Sacrifice'
Hallel is a Kennicott Fellow in Hebrew Studies, University of Oxford and Research Fellow, Oxford Centre for Hebrew and Jewish Studies.  
4pm Dr. Israel Sandman
'Embracing the Challenge of "Jewish Carnality"'
Israel Sandman is a Fellow at the Hebrew & Jewish Studies Department at University College London and an expert on medieval Jewish philosophy and manuscripts.
4.15pm Dr. Sergey Bogdanov
Sergei has a DPhil from the University of Oxford in Classical Philology, English Literature.
4.30pm Meir Wachs
'Chad Gadya: its origins and interpretations'
Meir Wachs is a former Pershing Square Scholar at the Faculty of Theology and the Said Business School, University of Oxford
4.45pm Professor Lawrence Schiffman
'Passover in the Dead Sea Scrolls'
Lawrence Schiffman is Judge Abraham Lieberman Professor in Hebrew & Judaic Studies at New York University and director of the Global Institute for Advanced Research in Jewish Studies. He is author of many books including serving as co-editor of the Oxford Encyclopaedia of the Dead Sea Scrolls and editor of The Dead Sea Scrolls: Fifty Years after Their Discovery.
Join Zoom Meeting
https://us02web.zoom.us/j/89284889816?pwd=YUlpSWpJUGxTVkxkTER1eE1KUkN3dz09
Meeting ID: 892 8488 9816
Passcode: 978930
Participants are welcome to attend all or any part of the programme.

Info:  [email protected]
All are welcome!