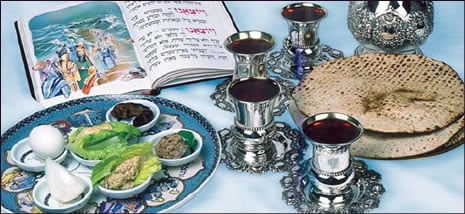 Over 1000 students and staff of the UK's universities celebrated Passover with Chabad on Campus.
Even though many of the universities were out of term, Chabad houses were swamped by students and staff that live on or close to Campus. Among these were a surprising number who were experiencing a Seder for the first time in their lives, both staff and students.
The Chabad on Campus Passover Sedarim varied in size. Chabad of Edinburgh's Seder at the Northumberland Hotel saw over 70, Chabad of South Ken's two Sedarim at the Imperial College Union saw over 200, Oxford Chabad's Sedarim saw 130 at the David Slager Jewish Student Centre and 50 enjoyed the Seder at Chabad of Cambridge.
The Chabad Rabbis were busy for weeks before Passover giving out supplies of Matza and wine to those who would be making their own Sedarim. 50 pounds of hand baked Matza were given out at Leeds University, 24 pounds at Liverpool and 22 pounds to students of South London Universities.
"The Passover Sedarim this year were an enormous success in helping Chabad on Campus reach out to hundreds of Jewish students who don't usually attend any Jewish events" says Rabbi Eli Brackman, chairman of Chabad on Campus UK.
The students and staff immensely appreciated the Sedarim. One student from Bristol University wrote "I had an amazing time, thank you to you and Leah: for the spiritual, welcoming atmosphere, and wonderful food; for connecting me to my roots and to my Jewish soul. I felt happy afterwards and nourished on many levels." And another from Liverpool wrote "Thank you and your family so so much for a wonderful Pesach experience, it was amazing as usual. Please thank Tzivia for me and Rosie for teaching me hagadah ".
Chabad on Campus UK is on 13 campuses nationwide and is kindly supported by communal philanthropist Mr. David Slager.
For more information please visit www.ChabadOnCampus.org.uk.