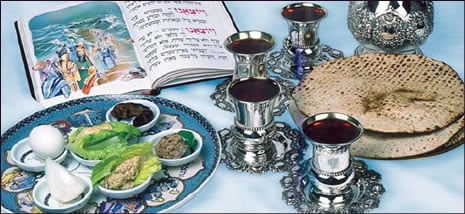 PASSOVER at OXFORD, 2023
___
We warmly invite you to join us for a traditional, warm, festive and communal
PASSOVER SEDER 
First Seder Night of Passover 
Wednesday, 5 April, 8pm
* Delicious festive dinner with traditional foods
* Handbaked Shmurah Matza
* Four cups of wine
* Haggadah (Hebrew/English) with insights and traditional songs
At Slager Jewish student centre, 61 George St, Oxford, OX1 2BQ
To book, please click here to fill in the form.
********
Second Seder Night of Passover 
Thursday, 6 April, 8pm
* Festive dinner with traditional foods
* Handbaked Shmurah Matza
* Four cups of wine
* Haggadah (Hebrew/English) with insights and traditional songs
At Chabad House, 75 Cowley Road, Oxford, OX4 1HR
To book, please click here to fill in the form.
********
Meal Plan throughout the holiday of Passover
Click here to RSVP for any of the meals throughout the holiday.
********
Matza Order Form
If you are in Oxford or away for the festival and would like to order a special hand-baked Matza for your Passover Seder - sent to you - FREE for students - please fill in the following form - click here at your earliest opportunity to guarantee stock.
********
Kosher for Passover Food Shop 
Chabad of Oxford offers a Kosher-for-Passover shop at the Chabad House, 75 Cowley Rd, Oxford, where you can find a variety of Passover foods, including wine, grape juice, Matza, Matza meal, cake and much more.
Please click here to view the list of items and to fill out your order form.
********
Sale of Chametz Form
To sell your Chametz online to fulfill the Mitzvah not to own Chametz (leavened food) during the holiday of Passover, please click here .
*******
Passover Festival Guide
Please click here for a full Passover festival guide with printable Haggadah texts (Hebrew/English), recipes, how-to-prepare for Passover, stories, history, insights, multimedia and much more.
********
Exhibition of Passover Hagaddah Manuscripts at Oxford
Click here to view this online exhibition.
********
Lectures related to Passover - delivered at the Oxford University Chabad Society
Click here to view this interesting collection of lectures.
********
Info
If you have any questions or for more info about the holiday, email [email protected] or call Rabbi Eli on 07772 079 940.
********
Wishing you a happy Passover!
Chabad of Oxford
Www.oxfordchabad.org/passover